MOVING
We move the world for you

Your company and your employees will receive the very best moving service from us, tailor-made solutions, and a competent relocation manager for order processing and your support from A to Z. UTS knows your requirements as a company in terms of competence, performance, compliance, and quality. Like you, we have only one goal: to make your employee's move as smooth as possible - no matter where it's going - no matter for what reason: dispatch, transfer, hiring or LumpSum.
With over 1000 locations worldwide (including more than 20 in Germany), our relocation managers support over 50,000 clients: you and your employees benefit from it.
For many companies, employee mobility is one of many building blocks in the overall corporate concept.
Changing labor markets are challenging companies worldwide in finding and retaining talented employees over the long term.
We offer valuable support and arrange employee transfers in a professional and uncomplicated manner.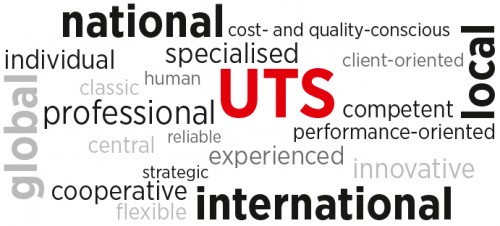 UTS offers tailor-made customer solutions for national and international employee transfers. Efficient and friendly UTS experts manage and execute all necessary processes. Also, they take care of the smooth relocation of employees and their families. A personal contact person accompanies each assignment and coordinates all steps of the move.
If your resources are insufficient but flexible and efficient processes are your goal, we can offer process security and relocation expertise. We take over all organizational and strategic tasks and keep track of the details. By working with UTS, you can delegate the entire relocation management process to us, or supplement your resources with our services.
Customer satisfaction at UTS: 99% of our customers would use our service again!

---
Moving - Advantages
Good reasons to work with UTS

Since 1985, we have been able to win many leading companies as customers on the world market. Also, we have many years of experience in the field of move management and knowledge of the special requirements of various industries. In addition, you benefit from the following advantages:
One point of contact for all matters, worldwide: We have bundled our responsibility centrally for you
Worldwide relocation service: We are available in all parts of the world
Billing and payment in many currencies: With us, you can work worldwide
Compliance with specific requirements, budgets, and agreed KPIs
Cost savings and bonus models
Many UTS companies are DIN EN ISO 9001 certified for moving, project moving, overseas moving and storage services
---
Moving - Budget
Transparency and control

Transparency is important to us. This characteristic applies to your costs, reports and the monitoring of your orders. At UTS, we agree on guaranteed service levels and professional key performance indicators (KPIs) in advance in a standardized manner. As our customer, you are therefore well informed about the scope of our services. With our "Fail Safe" program, a special early warning system, we can identify and solve potential weak points in advance.
Our web-based system gives you access to a wide range of information. You can view individual steps including overviews and cost estimates, all necessary documentation, reports and the tracking of orders as well as quality controls / KPIs, and also request comprehensive information in the respective countries. Our team handles cost management, customer care, performance monitoring, insurance matters (including claims handling) and also the coordination of local service providers for you.
We create financial incentives usingcost-saving agreements made in advance. Such bonus models aim at annual savings for UTS corporate clients. Invoices and payments can be madein foreign currencies, with each invoice corresponding exactly to the cost estimate.
---
MOVING
Our all-arround worry-free package

The UTS moving service is a complete worry-free package. From professional dismantling, packaging, and loading to transport and dispatch, we skillfully take care of all the steps. The scope of services also includes all customs and import formalities, delivery services, and complete unpacking and reassembly at the destination.
A change of residence is a complex and life changing event for employees and their families - especially if the new location is abroad. We are always happy to provide you with detailed and up-to-date information about life at your new place of residence. With this, we help your employees quickly find their way around, even in foreign places.