Moving to the USA
Your American dream - powered by UTS
Coordinating moves to and from the USA is one of UTS's main areas of expertise. With more than 1000 locations throughout the states, we are guaranteed to be easily accessible to you and your new home. Because of this, each year thousands of customers trust us with their move to, from, or within the USA.
The United States of America is known to many as the land of unlimited possibilities, and every year more and more people dream of immigrating to the US. One of the country's biggest attractions includes the mild winters and warm dry summers in areas such as the West Coast which is the home to some of the most popular travel destinations in the world, including Los Angeles, San Francisco, and Las Vegas.
Americans are often described as cheerful and easy going people who are very family orientated and hospitable to others. Additionally, their "think positive" mindset is an attractive trait for many immigrants.
Due to the United States being a melting pot of many cultures, communication is typically not a significant issue. However, basic knowledge of English is helpful, and to assist you with improving your language skills, many local schools offer English classes for new immigrants.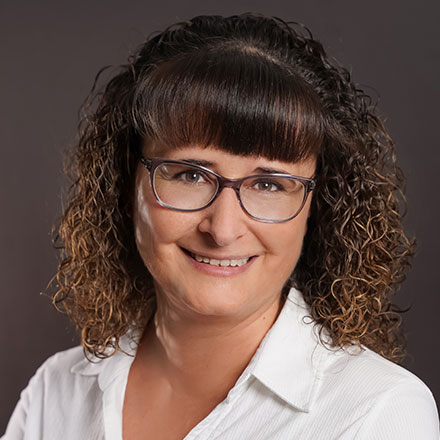 Your contact person
Mrs. Christine Andriollo
International removals
Moving abroad: UTS Shared Container Service
You want to save money - You are flexible with your schedule ?
Share transport costs with other UTS moving customers - safe, environmentally friendly, affordable
The UTS shared container services is suitable for a small volume (from 1 - 10 cbm, 1 bedroom apartment).
We consolidate the shipments from several shippers in a 20 `or 40 `sea containers. This service reduces costs as well as CO2. Good for you and the enviroment.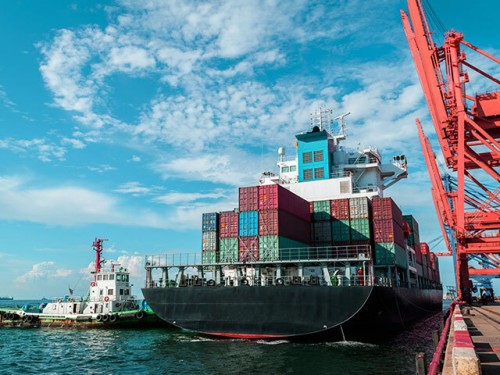 ---
Moving to the USA - Formalities
Proper preparation saves time and stress
Before beginning the moving process to the USA, you should first prepare all of your important documents. To make this process easier, it is recommended that you have a copy of your documents translated into English (certified, if necessary). But which documents are required? Here is a short checklist:
Identification card and passport
International birth certificate of each family member
Marriage or divorce certificate
Custody declaration in the case of a singleparent
Tax returns and other financial documents
Application documents
School-leaving certificates and professional references
International vaccination certificate
Employment contract (if applicable)
German and international driver's license
What should I keep in mind before leaving Germany?
Before making the big move to the US, you must first check out at the registration office of the responsible municipality. During your move, you will need the provided deregistration confirmation quite often. For example, you would need it for tasks such as applying for a new passport. However, for registration at the registration office in the USA, the deregistration confirmation is not relevant since there is no obligation to register there.
Can I use my German driver's license in the USA?
If you already have a valid driver's license and would like to drive in the USA, you should exchange it for an American driver's license immediately upon arrival.
This is an important step because in many states your driver's license can also serve as an identification card since it includes all of an individual's important information, such as primary residential address, date of birth, and the bearer's physical characteristics.
---
Moving to the USA - Scheduling
Important Factor: Timing
To ensure you receive your belongings in a timely manner, it is important to be mindful of timing. A key factor in determining the duration of the shipment is usually dependent on the arrival port. For example, cities like New York on the East Coast usually take only a few weeks, whereas cities like Los Angeles and San Francisco on the West Coast can take up to 8 weeks.
Therefore, our experts at UTS recommend that you start the planning process as soon as possible to ensure everything runs smoothly. Once your container has reached the desired port, UTS partners will take care of the on-road transportation to your new home, eliminating any stress on you while also keeping your items safe and secure along the way.
Transfer time USA West Coast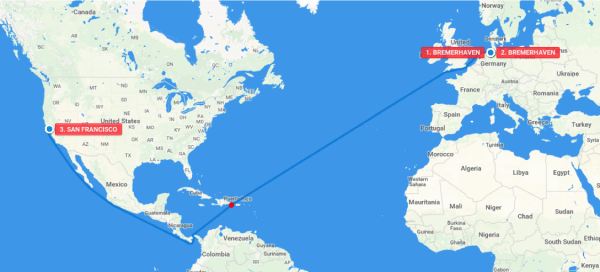 Export customs clearance in Bremerhaven, DE /
Hamburg, DE // 2 - 4 days
34 days at sea // San Francisco, USA
Import customs clearance in the USA
4 - 6 days (with normal customs clearance)
Transfer time USA East Coast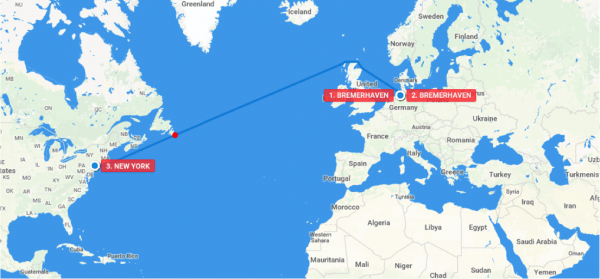 Export customs clearance in Bremerhaven, DE /
Hamburg, DE // 2 - 4 days
18 days at sea // New York, USA
Import customs clearance in the USA
4 - 6 days (with normal customs clearance
---
Moving to the USA - Entry regulations
The Green Card
The United States Permanent Resident Card, or more commonly known as the green card, is the ticket to the land of unlimited possibilities: the USA. It grants the holder the right of permanent residence, a work permit and the freedom to become self-employed. Additionally, the green card is particularly crucial for employee assignments.
But how do I get a green card? The easiest way to qualify to apply for a green card would be having a relationship or marriage with a person who is already a US citizen. However, you also have an increased chance if you are planning to invest on a large scale or are engaged in an activity that significantly benefits the USA. If you are a German citizen, you can directly apply for the green card at the United States Citizenship and Immigration Services (USCIS) in Frankfurt. Additional information and requirements for applying for a green card can be found here: https://www.visum-usa.com/en/us-green-card.html
To apply for an unlimited visa to enter the United States, contact the U.S. Embassy in Berlin or the U.S. consulates in the following cities: Dusseldorf, Frankfurt, Munich, Leipzig, and Hamburg.
If you have been a green card holder in the USA for more than five years, you can also apply for American citizenship directly. However, we strongly recommend that you apply for a retention permit instead so that you do not lose your German citizenship. Further information is available on the website of the Federal Administration Office in Cologne.
The Green Card Lottery
If you do not meet the above qualifications, there is still another way to fulfill your dream.
The US government's Green Card Lottery grants Green Cards to 55,000 people every year.
A bit of luck, however, is the key, as the demand is very high. Furthermore, some conditions must also be fulfilled in advance for the lottery.
Our UTS experts generally recommend not to transport food in freight containers, as this can lead to unnecessary complications, delays, and associated additional costs. In many cases, American customs will carry out a content check, which can be very time-consuming and costly.
Due to regulations, fresh dairy products, animal products or meat may not be imported. This also applies to transport in passenger planes. Dry food such as rice, pasta, spices or sweets can be imported without any problems. Fish or preserved cheese may also be brought along. Import regulations for fruits and vegetables are subject to frequent changes, so we recommend that you visit the U.S. Embassy's website for more information.
In the USA, there is a general import ban on narcotics of any kinds, including cough medicine and sleeping pills. For all other medications, it is advisable to carry a doctor's certificate (in English) that explains the necessity of these medicines to be with you.
Alcohol: 1 liter
Cigarettes: 200
Cigars: 50
Gifts: Maximum value $100
Please note that alcohol may only be legally purchased and carried in the USA from the age of 21 and above.
Cash, investments or securities may be imported up to a value of $10,000. If this value is exceeded, a US Customs declaration and approval is required.
Hand, sport and hunting weapons, as well as the corresponding ammunition, may be imported with the appropriate permit.
---
Moving to the USA - FAQ Import regulations
Import Regulations for the USA - Frequently Asked Questions
To make your move to the USA as smooth and pleasant as possible, it is important that you inform yourself in advance about the import regulations and comply with them. We have already summarized the most frequently asked questions for you below.
For more information, we recommend you take a look at the official website of the U.S. Embassy.