MOVING WITH ANIMALS
You want to take your pet with you on the big journey? UTS makes it possible and gives you important tips!
Of course, many pet owners don't want to move to their new home without their beloved pet. But there are a few points to keep in mind here, too. Due to their sensitivity, pets can quickly become stressed, especially when leaving their familiar surroundings. This makes good planning all the more important to make the move easier and stress-free for you and your pet.
UTS supports you in this process and provides you with an overview of all important topics related to moving with pets on this page. We also organise the transport of your pet and take care of all the necessary administrative requirements.
---
MOVING OUTSIDE OF THE HOME COUNTRY
Country specific regulations
Each country has different regulations regarding entry with living animals. These relate, for example, to quarantine and health regulations. To ensure that everything runs smoothly, it is therefore particularly important to familiarise yourself with the regulations before moving to a new country. Both the responsible consulate in your new home country and your vet can provide you with important information. This is especially true for EU countries. Important questions concern, for example, documents to be carried, regulations on quarantine and specific restrictions. If the local regulations are not adhered to, your pet may have to fly back or be accommodated in a quarantine station. The pet owner will have to bear the costs incurred as a result. Please also note that your pet may only travel with original documents.
Attention: The entry regulations of the individual countries can change within a very short time. Therefore, make sure that the information is up to date.
Note: The following information applies to dogs, cats and ferrets.
There are general rules for moving within the EU that apply to 27 EU member states plus Norway and Northern Ireland.
The exception is countries where there are specific rules on security. As a result, the rules for entry of certain breeds of dogs and young puppies may differ.
Basically, your pet needs:
A microchip or a clearly legible tattoo (must have been tattooed before 03.07.2011).
A vaccination against rabies
A treatment against the tapeworm Echinococcus multilocularis in Finland, Ireland, Malta and Norway (these countries are free of this tapeworm).
A valid EU pet passport or EU animal health certificate.
Visit the official website of the European Union for more information on travelling with animals within the EU.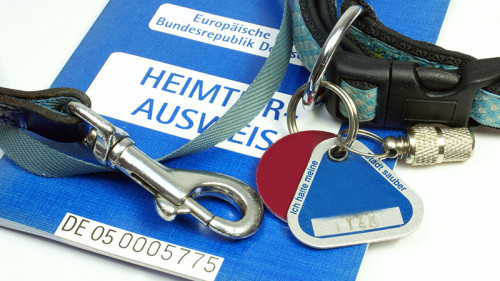 ---
Things to know about the EU pet passport
For travel within EU countries, you need an EU pet passport, which is valid for dogs, cats and ferrets. For other pets, you should follow the national rules. This document lists all the important information about your pet. This includes the microchip or tattoo code, confirmation of rabies vaccination and the contact details of the owner and vet. The ID card is valid for the pet's entire life, as long as the rabies vaccination is as well. It can be issued by all authorised veterinarians.
What needs to be considered before and during the move?
It also makes sense to find a new vet in the destination town before the actual moving. This way you have a direct contact person at your side in case of medical emergencies.
Timely planning of the move is the be-all and end-all and can make the entire process much easier. For air travel, find out about booking deadlines and where your pet will be accommodated at the airport and on the plane.
The regulations of the airlines can also differ, which is why all the necessary information should be obtained in advance in order to adjust the planning accordingly.
You should also find out about the regulations in the destination country early enough. We recommend that you familiarise yourself with the regulations 3 months before the day of your move. Moves to Australia or New Zealand are exceptional cases, where the processing of documents can take up to 6 months. So plan enough time for this process.
---
For some animals a residence permit is required.
Please note that some animal species may require a keeping permit. These include, for example, certain breeds of dogs or spider species. Therefore, it should be clarified in advance whether your pet is one of these and what precautions must be taken in this connection.
In some cases, the air transport of some dog breeds is also excluded or is accompanied by certain regulations. If these rules are disregarded, the airline may refuse to transport the pet. Such breeds (fighting dogs) include, for example, the pit bull terrier, the American Staffordshire terrier or the Kangal. With Lufthansa, for example, these dogs may only be transported in the cargo hold in special cages.
---
Well cared for on moving day
Since things can get very turbulent on moving day, you could, if possible, bring your pet to familiar friends or acquaintances for a few days and make all the necessary arrangements in the new flat during this time.
In case your pet is travelling directly with you, it is a good idea to put together an extra "pet box" with the following contents:
Important telephone numbers: New and old vet

Bottles of familiar drinking water (an abrupt change of water can lead to health problems)

Familiar food for several days

Food and drinking bowl

Everyday toys, utensils for grooming, basket/blanket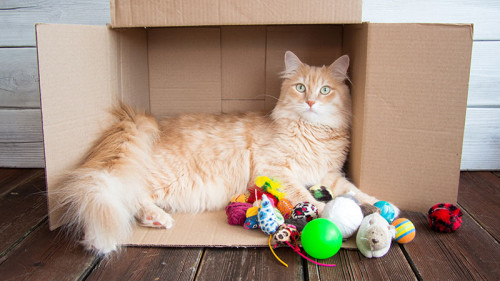 ---
Moving by plane
If the move is planned by plane, there are many things to consider. Since the rules and regulations of the individual airlines differ, we recommend that you familiarise yourself with them. We have summarised some basic information for an insight into travelling by plane in the next section.
In many cases, pets up to 8kg including the transport box can be transported in the cabin of the aircraft. The transport box must fit under the front seat and your pet must not leave it or be removed from it for the entire length of the flight. Please also note that you are not allowed to feed your pet during the flight.
An alternative to transporting pets in the cabin is to travel in the air-conditioned cargo hold of the aircraft. Certain types of animals or those that exceed the total weight allowed for cabin transport are transported in the cargo hold. It should be noted that you are not allowed access to the cargo hold.
Furthermore, the regulations of some airlines regarding the age limits of living creatures should also be followed. Accordingly, puppies usually have to be at least 8 weeks old to be able to start the long journey. When flying with dogs and cats, it is also important to feed them for the last time about six hours before the flight, otherwise stomach and circulation problems may occur.
Caution: The temperatures in the destination country can sometimes be too warm for animal transport. From 27 degrees upwards, animals should not be transported. This applies especially to blunt-nosed pets, which often have problems breathing anyway due to their anatomical condition.
The use of sedatives and sleeping pills should be avoided while travelling. They often lower blood pressure, which increases the risk of circulatory collapse during air travel. Some airlines refuse to transport pets if they have been given such drugs.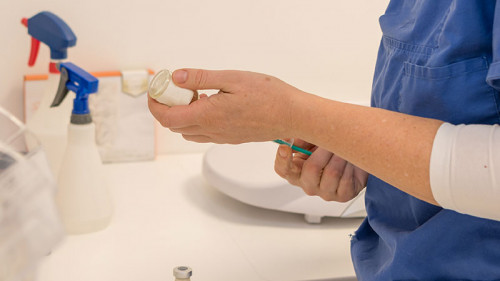 ---
Animal transport as cargo or excess baggage - differences
These two animal transports concern the transport in the cargo hold. Nevertheless, they differ in their procedures.
If your pet is travelling as excess baggage, it is handed in at the check-in/blocking counter like a suitcase on the day of departure and is located in the baggage hall on the tarmac. With this option, it does not stay in an animal station. Likewise, it will not receive initial care after landing. For this reason, you as the pet owner should carry enough food and water with you to be able to provide your pet with sufficient care upon arrival. You will then have to go through the customs registration area with your pet. There it will be presented to customs and a veterinarian and checked. It should also be noted that you must inform yourself about and are responsible for entry regulations. In general, this option of transport is cheaper, but also less animal-friendly.
On the other hand, travelling as cargo is a safer and more animal-friendly option. A pet carrier will take care of the booking with the airline as well as a professional process. This includes registration with export customs and often the provision of a suitable transport box. Before departure, your animal will be brought to the respective animal station by the forwarding agent. There it can stay outside the transport box once more. Then it is driven to the aircraft in a special vehicle and loaded last. After arriving at the destination airport, the pet is taken care of directly in the animal station and presented to the veterinarian and customs. Afterwards, your pet will be handed over to you. Travelling as cargo is in any case more expensive compared to travelling as excess baggage. Nevertheless, it is highly recommended due to its animal-friendly and safe procedure.
If the pet is to travel as cargo, UTS will expertly take care of the organisation.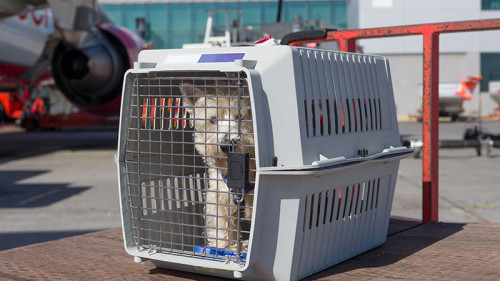 INFORMATION ON TRANSPORT BOXES
The right transport box for every pet
A good and safe transport box is essential when moving pets. Especially when travelling by air, make sure that the box complies with IATA (International Air Transport Association) regulations. Boxes that meet these regulations are very stable, escape-proof and offer sufficient ventilation. In most cases, the transport box should have four openings for ventilation. No part of the animal's body should be able to fit through them or be injured by them.
Furthermore, it is important that the respective animal can stand up and turn around in its box without much effort. Likewise, it must not have any grid caps. Another feature of suitable boxes is a waterproof floor. This should be covered with a thin, absorbent blanket, for example. To minimise the risk of injury, the inside of the transport box must be smooth and must not have any sharp corners or edges. Castors under the box are often not allowed. It should also have an attached drinking and feeding bowl. Also make sure that the leash and collar are in the hand luggage.
Tip: If your pet is already used to its transport box, the stress during pet transport can be minimised. It is therefore advisable to get your pet used to the box in the weeks/months before the journey. You can offer the box to your pet as a place to sleep, for example. Furthermore, it is a good idea to rehearse the pet transport in advance (car journey, etc.).
KNOWLEDGE
Moving with dogs and cats
Both dogs and cats get really used to their surroundings. For this reason, it would be ideal if you could place familiar furnishings in the new home. This will give your pet more security and make it easier for them to get used to their new home. Dogs often adjust to their new environment more quickly than cats. This is especially important for outdoor cats. Only allow your cat to go outside after a sufficient period of acclimatisation (approx. 1 month). If cats are let outside too soon, in the worst case they may not come back and run away. Please also bear in mind that a change of home by several cats may also disturb the hierarchy and may possibly be accompanied by fights over the new territory.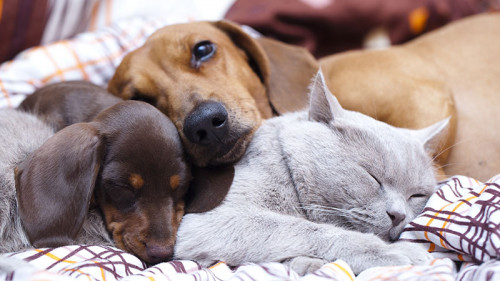 Special provisions for blunt-nosed animals
There are certain dogs and cats that belong to the blunt-nosed breeds. Due to their anatomy, these have narrowed airways, which can quickly lead to respiratory difficulties. Especially the stressful transport and possible high temperatures during transport can endanger the animal's health. For example, circulatory problems and respiratory distress can be the result. In the worst case, this can result in further health problems or even the death of the animal. Blunt-nosed dogs include the Chow Chow, Boxer or Pug. Cats such as Persians, Scottish cats and British shorthairs are also considered to be blunt-nosed cats.
Some airlines have issued certain regulations in this regard. These include, for example, that the animals in question may not be transported in the cargo hold, but only in the cabin. Furthermore, the restrictions may also relate to the temperatures during the journey, for example at the departure and destination airports. As part of your planning, find out from the respective airline which rules apply to your pet. We also recommend that you consult your vet in advance.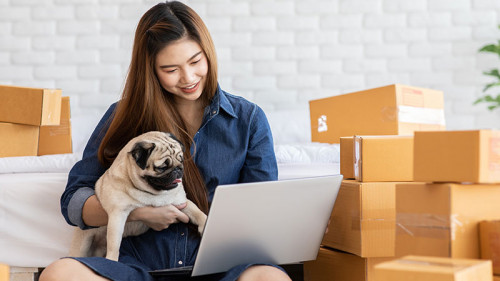 ---
KNOWLEDGE
Moving with other small animals
Moving in with guinea pigs, rabbits or other small animals is usually quite easy. Despite the stress, most animals get used to their new home very well. This is even easier if you can use the cage they are used to in the future.
If you have moved with birds, they should be housed in a quiet place. Loud noises can quickly panic the animals, possibly causing them to injure themselves in the cage or aviary. If the climatic conditions are different from home and significantly lower, draughts should also be avoided. This will also make the move less stressful for the birds.
MOVING AQUARIUM
Moving with fish and aquarium
If a moving with fish and the related aquarium is planned, some things have to be taken into attention. Saltwater and freshwater fish are very sensitive creatures, which is why the move should be well organised.
Firstly, it must be taken into account that the aquarium and its contents can be very heavy. It is therefore a good idea to pack gravel and stones separately. Special packaging should be used to transport the aquarium safely from A to B during the move. This includes, for example, sheets of hard foam.
By dismantling the aquarium last during the moving process and reassembling it first in its new home, the stress of moving can be reduced for both saltwater and freshwater fish. The time of transport can be shortened considerably by this measure.
On the other hand, relocation is easier for saltwater and freshwater fish if they can continue to live in their familiar water in their new home. We recommend that you transfer at least half of the original water from the aquarium into containers and take it with you. In any case, check the water quality at the new home. If this differs too much, measures should be taken to adapt.
How can fish be packed safely?
A plastic bag with water is particularly suitable here. Make sure that it contains enough oxygen for about 48 hours. You can then place the bag in a box made of Styrofoam and pad it with newspaper, for example.