MOVING SUSTAINABLY
How can I make my move more environmentally friendly?
Environmental, climate protection and sustainability. Terms that have become increasingly topical in recent years. This topic is also important to UTS. We strive to make your move as environmentally friendly as possible. To this end, we use environmentally friendly packaging materials, transporters with lower fuel consumption and offset the Co2 consumption with Atmosfair.
You too can make a contribution to sustainability during your move. Below you will find a few tips and tricks. Simple and without much effort
---
MOVE CO2 FRIENDLY
Keyword: Sorting out
Before packing your things, it's best to take another close look at which pieces of furniture and objects are no longer being used. Is it even worth moving them into your new home? If not, you could sort these things out. Less household goods has two positive effects: On the one hand, less has to be carried, and on the other hand, a smaller trolley can be used, which emits less CO2 compared to a larger truck. This is how you start your stage of life in a sustainable way.
ECO-FRIENDLY MOVING
Throwing away was yesterday
Sustainable moving also means giving things away instead of throwing them away. You may even be able to earn money with the sorted-out items or make others happy as a gift or donation. If you sell them, flea markets or various online platforms are particularly suitable. By reusing them, the production of new goods can be reduced, which in turn saves CO2. The same applies to the purchase of new furniture and other items: Second-hand purchases can be worthwhile. It is often possible to find second-hand items and pieces of furniture in good condition or even new, which are usually even cheaper than in the shop.
Beware of electronic equipment: Second-hand purchases do not always make sense. This is especially true for older electronic devices. You should pay close attention to the energy efficiency class. Often old dishwashers, washing machines and the like have a much higher power consumption. In this case, buying new appliances can be worthwhile when it comes to sustainability and environmental protection.
---
SUSTAINABILITY
Sustainability in packing
In most cases, waste from packing materials (boxes, paper, plastic) cannot be avoided when moving house. However, there are ways to reduce it.
Collect packing materials early on to reduce new plastic waste. Over time, you will accumulate some things that can end up being useful when you move. When you buy a new electrical appliance, this is often protected with polystyrene and plastic. You can easily reuse these materials.

Your own textiles (blankets, fitted sheets, etc.) can be repurposed and used as padding and protection for furniture as well as objects. This also applies to the packaging of small items and shoes. Tins, suitcases and other containers can be used for this purpose.

Instead of the classic parcel tape, which is mainly made of plastic, you could also use paper tape with a natural adhesive.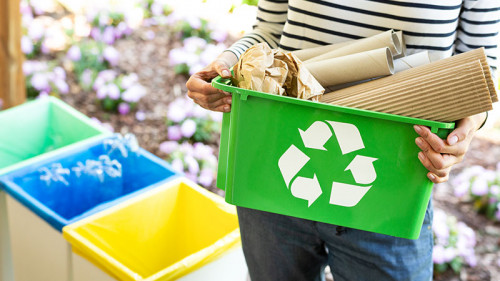 THE MOST IMPORTANT
The moving boxes
The more household goods you own and the more family members are involved in the move, the more boxes you will need for your move. These in particular will result in a large amount of paper waste.
What are some ways to reduce this waste and do something good for the environment?
Use used cardboard boxes: Perhaps neighbours, friends and acquaintances still have some cardboard boxes left over that you can use. The internet also offers some possibilities in the form of online portals. This means you can do without buying new ones.

Rent moving boxes: There are several providers who offer this service. You can also rent boxes from UTS.

If a purchase is unavoidable, you will find a wide range of ecologically produced moving boxes in our UTS Kartonshop PLUS.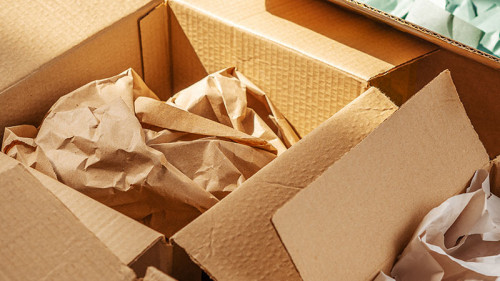 ---
PLANNING AWAY
One trip for everything
Calculate your amount of removal goods in advance. It is ideal and environmentally friendly if you make as less drives as possible. This is especially true for longer journeys. Constantly driving back and forth is associated with increased emissions and is also more expensive because more petrol is needed.
---
Environmentally friendly renovation
When repainting, environmentally friendly paint can be used. The "Blue Angel" seal is an important indicator. Clay and lime paints as well as silicate paints are also suitable. In most cases, the silicate paints do not contain solvents, preservatives or softeners and are therefore also suitable for allergy sufferers.
We also recommend that you handle all other painting utensils with care and clean them early on. This way, they can be used several times.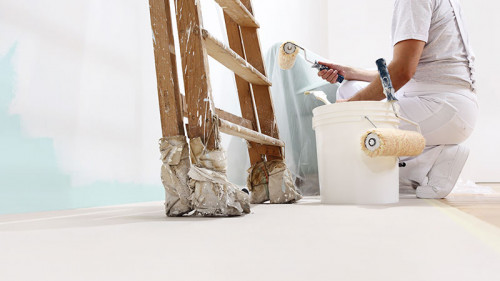 ELECTRICITY AND ENERGY
Change electricity provider
Renewable energies are on the rise. You could use your move, for example, to switch to a green electricity provider. To do this, it is a good idea to browse and compare the various providers on the internet before you actually move.
EVERYTHING AT A GLANCE!
Tips and tricks for your sustainable move
Do you want to move sustainably? We at UTS have put everything together for you in a short and compact checklist so that you can come very close to achieving this goal.
Tip 1: Move with fewer things
The right way to do this is to clear out and sort out all unused and no longer needed items. This is the way to make an environmentally friendly move, because with fewer things, the smaller removal van is enough and you don't have to lug as much.
Tip 2: Give away and pass on
After clearing out, you will have some things that will not go with you to the new flat. You can now sell or give away old furniture, clothes or books. The best way to do this is via classifieds portals or Facebook groups, and you'll be doing something good for the environment.
Tip 3: Second-hand
Just as you can recycle your old furniture and clothes, you can also resort to second-hand belongings. Walk around flea markets or browse online platforms for the items you are looking for. Here you can act in an environmentally friendly way and often get high-quality furniture at a lower price. However, you should make an exception for electrical appliances, as many new appliances are more environmentally friendly than their predecessors.
Tip 4: One trip is enough or go for the sporty option
You can make your move sustainable by renting a van that can fit all your belongings at once. This may be more expensive than the neighbour's small car, but you save on CO2 emissions. Or you can be sporty and transport everything by cargo bike. Here you could go on a bicycle tour with friends and family on cargo bikes to your new home.
Tip 5: Packaging material
To save on plastic, you can collect materials for packaging and padding in advance. This way, less new packaging waste is being produced as a result of moving to a new home. Or use your own textiles to protect your belongings. Towels, sheets and fitted sheets are particularly suitable for this. This makes the move more sustainable.
Tip 6: Renovate sustainably
You can also pay attention to sustainability when renovating. Use paint that is not harmful to health. Terms like "solvent-free" or "organic" are a small hint here. When it comes to wallpaper, you should also make sure that it is PVC-free and, if possible, made of recycled paper. This will help you protect natural resources.
---
MOVE SUSTAINABLY
Be kind to the environment
As a moving company, we offer you a comprehensive range of services on the subject of sustainable moving. Our removal consultants will be happy to help you with organizational and other questions. We will be happy to give you a few good reasons why you should move sustainably. Or give you tips on how to pack fragile items in a sustainable way. We can also take care of the disposal of your furniture if you wish. We would be happy to provide you with a compact and free brochure on a wide range of topics.
Please send us an informal and non-binding e-mail.
We will get back to you as soon as possible.
We look forward to hearing from you - Move quickly and easily with UTS!