MOVING BY CAR
Helpful tips and tricks for your move by car in Germany and abroad
Of course, you also want to take your car with you when you move into your new home. UTS offers you the service you need. Of course, we will also support you with all aspects of your vehicle and ensure that you and your car arrive safely in your new home. Because you also have to observe a few things and deadlines when moving with your car.
On the following page you will find all the important information about your move with a car as well as important tips and costs incurred for a vehicle re-registration.
MOVING WITH A CAR IN GERMANY
Within a registration district
If you move within your current registration district, i.e. change the part of town or district, you can keep your number plate and save the costs for a new number plate. You will only incur costs for the change of address in the vehicle registration certificate (Zulassungsbescheinigung Teil I). Such a change of address does not necessarily have to be made at the vehicle registration office, but is often made at the residents' registration office together with the change of your place of residence. The cost of the change in your registration certificate is between 10 and 15 euros. If you also appoint a new vehicle owner, the costs increase to about 25 to 30 euros for the change in your vehicle documents.
---
CHANGE TO A NEW REGISTRATION DISTRICT
Re-registering your car
If you are moving to another town or district with a different registration office, you should find out in advance which is your new registration district. You can only re-register your car at the registration office in your new place of residence.
Please note that before you can re-register your car, you must already have done so at the registration office in your new home town. Here, too, there is a fee for the change in your vehicle documents. Since 2015, you can even save yourself the cost of a new number plate and simply take your previously valid number plate with you throughout Germany. If you would like to claim a new number plate, you must expect additional costs of 20 to 30 euros. You will also need a new fine dust sticker, which costs around 5 to 10 euros each.
Tip: For a detailed list of all fees, contact the responsible motor vehicle authority in your new home.
APPLY FOR A LICENCE PLATE
How to obtain your licence plate
When re-registering or applying for a licence plate of your choice, you should bring along your old licence plates as well as the most important documents. If you have a special number plate, you should inform yourself in good time in your new home. Many cities and municipalities offer a reservation service for your personal number plate. There is a fee of between 10 and 15 euros for this reservation. However, you also receive the guarantee that you alone can apply for the licence plate and that no one can take it away from you. For a special licence plate, you will have to pay an additional fee of 15 to 20 euros to the responsible registration office.
Important deadlines for re-registration
After your move, you must adhere to the deadlines for certain re-registrations. Just as there are important deadlines for re-registering your residence, these also apply to re-registering your car. Of course, you don't have to go to the registration office on the same day you move in, but you should find an appointment within a month. If this deadline of around 4 weeks is exceeded, you could face a heavy fine.
A FAST ALTERNATIVE:
The online re-registration for vehicles
Since October 2019, you can re-register your car with the Federal Ministry of Transport. The re-registration is done online on the i-Kfz website. All you need for the online re-registration is an identity card that has the online ID function (eID) activated, as well as a card reader and the Federal Government's IDAPP2. The car you want to re-register should have been registered at least in 2015. The same applies to deregistering a vehicle, which you can also do online.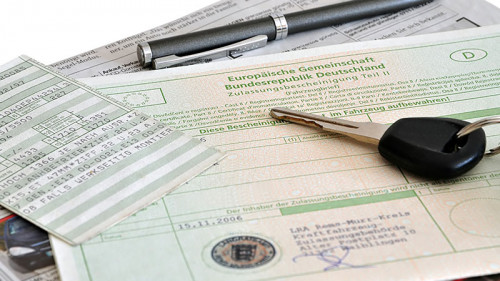 ---
Important documents for your car re-registration
If you want to register your car or motorbike in your new home, there are some important documents you should have with you for the competent authority. To make sure you don't forget anything when registering your car, we have compiled the most important documents below.
KNOWLEDGE
Insurance
When a registered and declared car is sold, the insurance contract is automatically transferred to the buyer. The buyer and the new owner of the vehicle can terminate the contract with immediate effect or at the end of the current insurance period. This must take place within one month. In the case of a sale, the responsible motor insurance company may terminate the contract with the same notice period. In the case of a move with a vehicle, the registration area and regional class may change. The insurance company will notify the holder of a new eVB number. The owner should take care of the eVB number in good time, as it must be presented when the car is re-registered.
---
KNOWLEDGE
Applying for a resident parking permit
If your new home does not have its own parking place, you often have the option of applying for a resident parking permit. This is marked with the particular area in which you are allowed to park your car. Within the area in which your resident parking permit is valid, you may park your car for an unlimited period of time. You can purchase such a parking permit at the relevant citizens' advice centre in your city or municipality. You can often determine the validity of your parking permit yourself. The cost for one year is around 30 euros.
Important: Keep your identity card and registration certificate Part I ready when you are issued one. If you are not the owner of the vehicle, you should also have a certificate of ownership with you.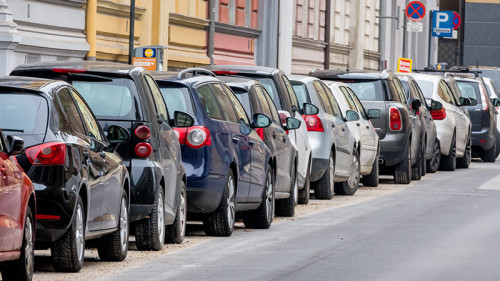 ---
MOVING TRANSPORTER
UTS takes care of the transportation of your removal goods
When you move, it is up to you whether you want to take care of the transport of your furniture yourself or whether you want UTS to take care of this service for you. With UTS you can save yourself the annoying costs of a van or sprinter. We will gladly take care of loading, transporting and unloading during the entire move.
Important: If you carry out your move yourself with your own car or a rental car, you have no insurance cover if anything happens to your belongings.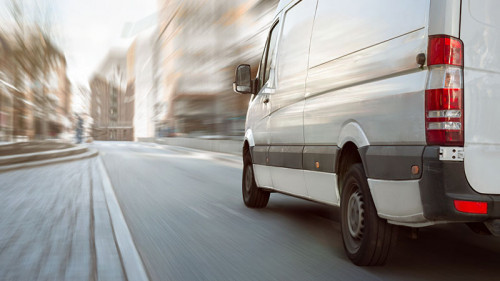 MOVING ABROAD WITH A CAR
What do I have to consider if I want to move abroad with my car?
Depending on the destination country you are moving to, there are a few things to consider. In the following, we have differentiated between countries within and outside the EU.
If you have any further specific questions, our UTS staff will be happy to help you!
Within the EU
Taking a car to a country that is within the EU is usually possible without any problems.
What do I have to do in the destination country?
Apply for car insurance
The car must undergo a technical inspection (TÜV or similar)
Register the car in good time (and deregister it in Germany beforehand). Note: The deadline for registration is usually 6 months. However, it can also be shorter. Therefore, the regulations in the country of destination must be checked carefully. The re-registration is carried out with the German vehicle documents as well as the EC certificate of conformity (COC paper).
Further information can be found on the official website of the European Union.
Information on taxes
If you have owned your vehicle for less than 6 months, you will have to pay purchase tax. Tax is also payable if you sell it after less than a year. There are also countries where registration tax is payable.
Beware of leasing vehicles
It can be difficult to take leased vehicles with you. Since the leasing contract is a transfer of use contract, the driver is therefore not the owner and does not have free disposal of the vehicle.
Outside the EU
Taking a car to a country outside the EU can be quite complicated. It is often much easier to sell the car in Germany and buy a new one in the destination country.
What to consider if you want to take your car to a country outside the EU
Costs: If the car is shipped to another continent (e.g. America, Australia, etc.), high costs are to be expected. In addition, it may have to be modified to meet local safety standards. This results in further costs.
A lot of effort: This includes, for example, customs clearance, the general bureaucratic part, thorough car cleaning and import.
Important: Customs regulations can differ from country to country. Therefore, it is absolutely advisable to inform yourself sufficiently in advance about the existing regulations in the destination country.
Would you like to find out about the regulations in your destination country? Then it's worth taking a look at our country pages, where you can read up on interesting facts.
Click here for some of our country pages:
As a moving company, we offer you a comprehensive service profile as well as competent advice for moving with a car.
Our removal consultants are at your disposal for organisational, legal and other questions. We will be happy to provide you with compact information on the various topics as a free brochure.
Please send us an informal and non-binding e-mail.
We will get back to you as soon as possible.
We look forward to hearing from you!